TOWN OF ERIN
About our Community
The Town of Erin is a picturesque rural community located in southern Wellington County just north of the Greater Toronto Area. 
We have rolling countryside, meandering rivers, small settlement areas and quaint village settings.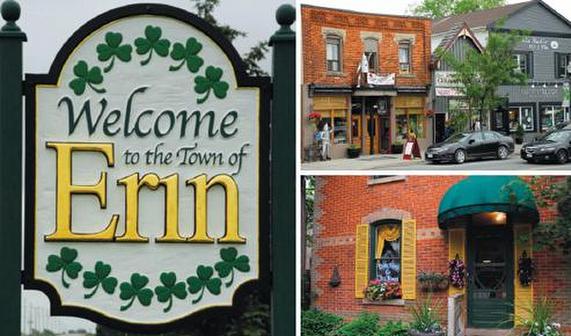 A few facts about Erin:
The Town of Erin covers 360 square kilometres or 140 square miles

There are 11,439 residents within the Town - 3900 households

The Town of Erin Roads Department maintains 288.55 km of roads and 50 bridges

The Town ne

wspaper is "The Advocate", there's also a County wide newspaper, "The Wellington Advertiser"

Activities & Tourism
 
The Town of Erin is part of the Hills of Headwaters tourism region.  Step outside Toronto's back door to the headwaters of four southern Ontario watersheds, the hills of the Niagara Escarpment and the heartland of small-town Ontario. 

For all there is to see and do visit the Hills of Headwaters Tourism Association's website.
Also visit the Wellington County Festivals and Events Guide for lots of fun and interesting things to do within the County of Wellington.

Shopping & Restaurants

Erin boasts an eclectic array of shopping with everything from housewares and home décor, to clothing and toys. Country living meets boutique shopping in this beautiful Village, just outside the City.

Experience Erin's local artisans of taste as they create delicious food incorporating local produce. The Village hosts several delicious eateries, and you can relax on the patios to quench your thirst in the summer heat.

Why not make it a full day visit to one of Ontario's best-kept historic downtowns, and add to your adventure with cycling, hiking and horseback riding – get active and inspired in our great outdoors!

The Town Crier
 
The Town of Erin's Town Crier appears at special events within the Town.
Watch our Town Crier at work in our "My Little Town in the Hills" video and also visit the "Andrew Welch, Town Crier" website.
The Town of Erin Video "My Little Town in the Hills" was produced and generously donated to the Town of Erin for our use by Julian Lamprecht.
 
Aerial 360 Tour
Source: Town of Erin
For more information, click on the 
'
Contact me
'
box
 on the home page.
S
USAN
L
OUGHEED
, 
Broker 
  Your 
REALTOR
® for life!
Proudly providing real estate services in Acton, Brampton, Caledon, Erin, Georgetown, Halton Hills, Milton, Rockwood and surrounding areas since 2001!
Let me know if you need assistance in another area.  I have an extensive network of great local REALTORS® that I would be happy to recommend.
Advanced Search
The range between minimum price and maximum price is incorrect. Please submit the correct range.