CALEDON
Approximately 75,000 people live in Caledon. It is close to large urban centres and major transportation routes. 
Caledon is spread over 700 square kilometres, and sits in the southern reaches of Headwaters Tourism Area. Scenic countryside and quaint villages offer something for everyone in Caledon. 

There's lots of places to cycle and hike.

There are also a lot of nice golf courses such as Caledon Golf & Country Club, Mayfield Golf Club, Legacy Pines, Banty's Roost, Caledon Woods, Osprey Mills and TPC at Osprey Valley with 3 amazing courses (Heathlands, North and Hoot).  There is also the prestigious private courses: The Devil's Pulpit and Paintbrush. 

Land Use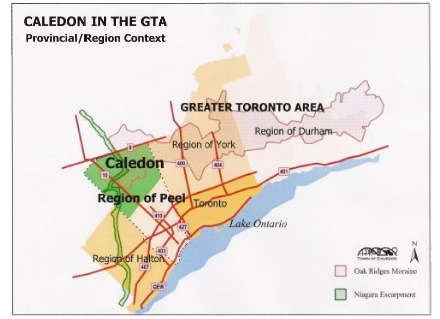 Caledon is primarily rural land, however it does border the urban centers of Brampton and Orangeville.





Caledon consists of of a number of urban areas, villages, and hamlets; its major urban centre with typified suburban housing mixed with old town charm is Bolton.

There are many large country estates in the area, among them many members of the Eaton Family, Norman Jewison, Elton John and the inventors of the board game Trivial Pursuit.

Maclean's magazine has named Caledon as the safest town in Canada to live in.


The Communities

The primary administrative and commercial centre of Caledon is the town of Bolton, which the municipal government estimated as having a population of 26,478 in 2006.

Smaller communities in the town include Albion, Alloa, Alton, Belfountain, Boston Mills, Brimstone, Caledon, Caledon East, Campbells Cross, Castlederg, Cataract, Cedar Meadows, Cedar Mills, Cheltenham, Claude, Coulterville, Ferndale, Forks of the Credit, The Grange, Humber, Humber Grove, Inglewood, Kilmanagh, Lockton, Mayfield West, Macville, Melville, McLeodville, Mono Mills, Mono Road, New Glasgow, Palgrave, Queensgate, Rockside, Rosehill, Sandhill, Silver Creek, Sleswick, Sligo, Snelgrove, Stonehart, Taylorwoods, Terra Cotta, Tormore, Valleywood and Victoria. 




History

The Town of Caledon was established on January 1, 1974 in conjunction with the creation of regional government. Representing an amalgamation of the former County of Peel townships of Albion, Caledon and the northern half of Chinguacousy, the Town of Caledon forms the northern municipality of the present Region of Peel.

The name 'Caledon' was chosen through public referendum in 1973; the other choices on the ballot were 'Albion' and 'Cardwell', the latter being an historic electoral district from 1867-1908 that encompassed the Town of Orangeville and four neighbouring townships.


Trails and Protected Areas

The Town of Caledon has over 70 parks totalling more than 300 acres. There is also over 260 km of publicly accessible trails within the Town of Caledon including 105 km of the Bruce Trail. The Town of Caledon currently owns and maintains the 36 km of the Caledon Trailway, and a 1 km portion of the Etobicoke Creek Trail.
Bruce Trail

Caledon Trailway

Elora-Cataract Trail

Grand Valley Trail

Humber Valley Trail

Andrews Treasuretrail

Oak Ridges Trail

Albion Hills Conservation Area

Alton Forest Conservation Area

Belfountain Conservation Area

Caledon Lake Forest Conservation Area

Forks of the Credit Provincial Park

Glen Haffy Conservation Area

Heart Lake Conservation Area

Ken Whillans Conservation Area

Palgrave Conservation Area

Robert Baker Forest Conservation Area

Terra Cotta Forest Conservation Area

Warwick Conservation Area
Source: Inside Caledon & Town of Caledon
For more information, click on the 
'
Contact me
'
box
 on the home page.
S
USAN
L
OUGHEED
, 
Broker 
  Your 
REALTOR
® for life!
Proudly providing real estate services in Acton, Brampton, Caledon, Erin, Georgetown, Halton Hills, Milton, Rockwood and surrounding areas since 2001!
Let me know if you need assistance in another area.  I have an extensive network of great local REALTORS® that I would be happy to recommend.
Advanced Search
The range between minimum price and maximum price is incorrect. Please submit the correct range.